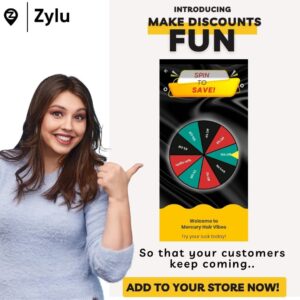 If you're a salon owner, you know how important it is to keep your customers engaged and excited about your services. Offering discounts and promotions is a great way to do just that. But have you ever thought about spicing things up with a spin the wheel discount campaign? This interactive and fun approach can be a great way to not only offer discounts but also increase buzz around your salon and attract new business. In this blog post, we'll take a closer look at how you can create a successful spin the wheel discount campaign for your salon. Plus, we'll explore on the idea, including options for children like offering chocolates and toys as rewards. So, let's get started!
Step 1: Determine the Discounts and Prizes
The first step in creating a spin the wheel discount campaign is to determine what discounts and prizes you will offer. For children, consider offering fun prizes such as small toys, stickers, or chocolates. For adults, discounts on services or retail products are a popular choice. You can also mix it up and offer a combination of both discounts and prizes.
Step 2: Create the Wheel
Next, create the actual spin the wheel game. You can either purchase a pre-made wheel online or create one yourself using a spinner or a digital wheel program. Be sure to include the different discounts and prizes you've chosen in equal amounts on the wheel.
Step 3: Promote the Campaign
Once you have the game set up, it's time to promote the campaign. Use social media and salon advertising to spread the word about your spin the wheel campaign. Consider offering a special discount or prize for customers who share your post or tag a friend in the comments.
Step 4: Make it Interactive
When a customer comes in for their appointment, invite them to spin the wheel before or after their service. For children, make it an extra special experience by letting them choose their prize from a treasure chest or toy basket. This personal touch will make your customers feel valued and appreciated.
Step 5: Track and Reward
Finally, make sure to track the discounts and prizes that are given out and reward customers accordingly. This will help you measure the success of the campaign and provide valuable feedback for future marketing strategies.
A spin the wheel discount campaign is a unique and exciting way to attract customers to your salon while offering them enticing discounts and promotions. By making small adjustments to your campaign, like offering chocolates and toys for children, you can create a more personalized and memorable experience for your customers. This can help build brand loyalty and encourage customers to return to your salon for future services.
Moreover, when customers have a fun and engaging experience at your salon, they are more likely to share their positive experience with others, ultimately leading to more word-of-mouth referrals and new customers. So, don't be afraid to think outside the box and add your own personal touch to your spin the wheel campaign.
In conclusion, a well-planned and executed spin the wheel discount campaign can be a powerful marketing tool for your salon, helping you stand out in a crowded market and attracting new customers while keeping your existing ones engaged and satisfied. With a little creativity and the right incentives, you can create a memorable experience that keeps customers coming back for more.