When it comes to healthy hair, you've probably heard the word keratin mentioned and all of the haircare products that contain the ingredient. But you might not be sure what exactly it is and what it's supposed to do. 
If you've ever looked at the service menu at a salon, you probably found some treatments listed that you've never taken advantage of or didn't know existed. Aside from the standard cut, colour, and blowout, many hair salons offer additional services, like a keratin treatment. Keratin is an essential protein for healthy hair, skin, and nails. At the salon, it's a popular smoothing treatment that gives you silky-soft hair with loads of shine.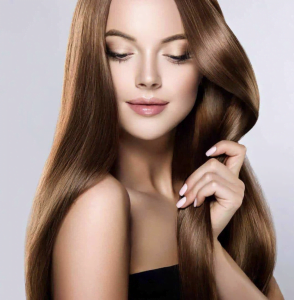 What Are the Benefits of a Keratin Treatment? 
Because a keratin treatment chemically smooths the cuticle, it delivers long-lasting results, unlike at-home products that promise the same frizz-free benefits, which only work for a few hours or days. If you have dry hair, it helps it to become more manageable, healthy, and shiny. The results last up to three months, but the longevity of the treatment depends on your hair habits. You have to use sulfate-free products. 
What Is the Process Like for Getting a Keratin Treatment? 
There are different types of keratin treatments, and the options are often dependent on the salon. Most salons use a one-day formula: First of they use clarifying shampoo twice, then they dry with a flat brush, apply the product, dry again, and finally seal the product with a flat iron. 
The process doesn't end there. There are some necessary after-care steps you need to follow after the treatment is finished. You need to avoid getting your hair wet, and you can't braid, style, or use clips or scrunchies. Essentially, you can't do anything that could modify the shape of the hair for 24 hours.   
What You Should Know Before Getting a Keratin Treatment
While the Long-term, frizz-fighting benefits of a keratin treatment may sound appealing, there are a few things you should know before blindly signing up. The smoothing treatment is inadvisable for thin hair. Some keratin treatments can be stronger than others and contain harsh ingredients. Only a professional must be handling these products as they have the proper training. It is also essential that the treatments happen in a well-ventilated area and a mask is worn to prevent inhaling the fumes. Your hair needs to be strong enough to take the keratin treatment. So you should consult with your stylist beforehand to ensure you're a good candidate. 
What Products to Use After the Treatment? 
The best products to use after a keratin treatment are listed below. 
Kérastase Discipline Sulfate-Free Smoothing Shampoo and Conditioner 
K18 Leave-in Molecular Repair Hair Mask
Act + Acre Restorative Hair Mask 
Virtue Recovery Shampoo and Conditioner