I'm assuming that you want to run your business smoothly, attend to clients every day and ensure that you provide excellent customer service. Right? 
Then it is important that you have access to salon software that makes your business activities easy.
There are a lot of salon software and picking one from them is not an easy task.
You might have probably already researched salon booking software alternatives but the information is still overwhelming and that might also have created confusion. 
But what's the right one for you?
After spending hours researching on finding the best salon appointments software, I have documented all the features and benefits of the best software respectively. And in this article, I have tried to put it together the best salon software in India in a simple overview. 
I hope that this article may save you hours of research and money.
This is what you will find in this article today:
Let's dive right in-
Zylu Business | A Hybrid Marketplace With A Complete Built-In Salon Management Software
Are you looking for a complete all-in-one platform that facilitates every aspect of your business without digging a fortune?
Then Zylu is the winner on the list.
It's simply easy to use User-friendly interface, making it easier for anyone to use the software without having any technical skills.
Everything is there that would really help your salon to grow.
Integrated payments, a built-in marketplace with zero commissions, point-of-sale (POS), and exceptional salon marketing support.
This is for the salon that needs more than just online appointment scheduling. It is recommended for salons that want software that helps salons to manage their daily activities while sending them customers without charging a commission.
It also provides the support of an app where customers can directly book an appointment at your salon. Therefore, it clearly makes it's place in the five best salon software India.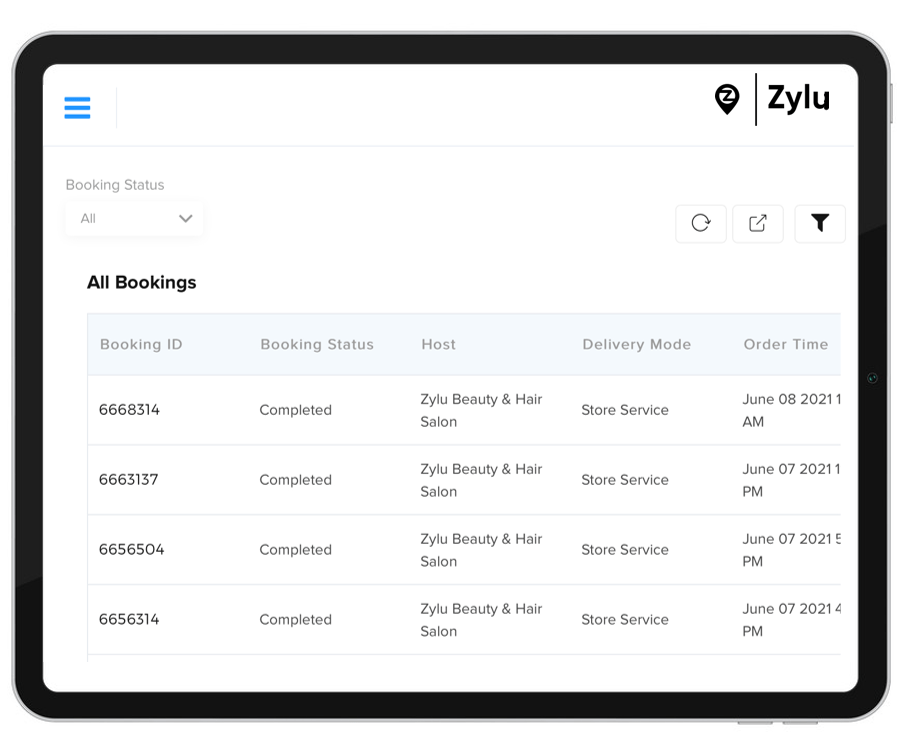 Mobile App
Point Of Sale (POS)
Marketplace to help you get more customers
Business Analytics And Reports
Easy To Use Interface
Rewards And Wallet
Zero Commissions For Any Customers
Inventory Management
Online Appointment Scheduling
Automated Notifications
Multiple Device Compatibility
Affordable
24*7 After Sales Support
Dingg | Salon Management Software India
Dingg is also a hybrid marketplace like Zylu that offers a dashboard for bookings and reservations, with easy automation of appointment and follow-up reminders, customized to decrease no-shows and manage time slots. 
Dingg comes with decent features that helped it to make it up to the top salon management software in India list.
Booking Management 
Customer Management And Reviews
Point Of Sale (POS)
Notifications
Reports And Analysis
Marketplace For Customer Booking
Mobile App 
Loyalty Program
Salonist | Management Software For Salons Spas
Salonist is a dedicated salon appointment scheduling & booking software that offers a diverse range of functions for businesses of all sizes. This salon software is fitted with everything you need to save time, enhance brand visibility, and make smart decisions in the beauty industry. 
Salonist is also packed with features that can help you to manage your business. 
If you have a good budget and want complex features then you can consider salonist appointment management software.
Salonist's annual price starts from $290 for the basic up to $1290 for the premium version. 
Online Management
Marketing Automation
Branch Management
Online Booking
User Friendly
Reward/Loyalty
Point Of Sale (POS)
Analytics Services
User And Role 
Easy Salon | Salon Management Software
Easy Salon gives you a lot of marketing tools like bulk SMS, email marketing, online appointment booking with payment options, membership, reward points, referral codes, service bundles etc. 
Easy Salon gives you an online appointment booking but does not have a dedicated marketplace like Zylu to get more customers.
The user interface is decent but not like the software mentioned above. But it does come with sufficient features to compete with them.
Retain clients
Online Appointments
Enquiry Management
Feedback And Ratings
Daily Reports
Unlimited Access 
Manage Multiple Properties
Fresha | A Commission Based Marketplace With Salon Software
Fresha, formerly known as Shedul is a well-known software platform.
It does not charge a subscription fee and has no limit on usage instead charges a 20% commission on unique customers with additional transactional charges.
The limitation you may find with Fresha is the lack of customisation options. It looks great out-of-the-box so this will likely not be a big issue. However, you will for example not be able to change the design of your booking page or have bookings integrated into your website.
Free Subscription 
20% New client fee – to the appointment of new clients via the Fresha marketplace website and apps
 Appointment Scheduling
Marketing Promotions
Reporting And Analytics
2.19% + $0.20 Payment processing fee per transaction across all payment methods
 Point Of Sale (POS)
Things To Consider Before Choosing Your Salon Software
There are tons of things to keep in mind while choosing salon and spa software.
1. User Friendliness
You need to get a system that can be easily used by your salon or spa staff members without much training.
Try to go in for the right fit, after all, investing in a salon or spa software that is not speedy or responsive will definitely lead to business failure.
Most modern solutions in the market have clean and intuitive interfaces that make booking appointments or billing client sessions super easy. Making sure that you get a simple platform that is not cumbersome or complex should be your number one priority as it will keep your beauty business soaring.
2. Choose A System That Helps In Customer Relations
Research shows that a 5% increase in customer retention can boost your profits up to 30-95%. Repeat clients will surely spend more at your salon or spa than new ones, so make sure to get a comprehensive solution that will enhance customer relations. 
Do not look for an intensive POS system, rather invest in a salon or spa software that has integrated CRM. 
It should be able to manage attractive programme schemes to keep your customers engaged and coming back for more services. 
Customer-centric marketing programs should be easily handled, as your spa software should automate notifications and has multiple device capability.
3. Get The Best Value For Money
Your salon or spa software needs to be cost-effective, and affordable and should not burn a hole in your pocket. Opt for a pricing plan depending on your size, diversification plans, and budget.
Do not get excited by the features as it comes with a price. 
Look for something that is a good fit for the salon and your pocket,
You may decide to go in for a monthly payment or an annual plan – just make sure to rely on a credible vendor who will provide after-sales support with upgrades and maintenance. Support should be available through multiple channels such as emails, phone helplines and live chats – seamless service will maximise early adoption and use of the software by staff members.
Getting a high return on investment should rank top when choosing a salon or spa management platform, so get the best deal out there in the market.
How To Use Your Salon Software For Growth
Usually, when someone buys software, they start expecting instant results and it never happens and then they lose motivation because it needs a behavioural change for both the owner and the customers. Then they start the conventional practices.
The right approach should always be to replace the old conventional way to run your salon with technology in a modern way. It takes time when it really shows the result because it requires behavioural change.
You should start training your employees and endorse your customers to use the platform to book an appointment. When it forms a habit for your customers then the real growth starts.
Even 10 customers from these platforms can pay back your investment in a few months.
So the recommendation is to start using the software and keep using it. It will eventually help your business to be stable and profitable.
The right salon software can really be a game-changer for your salon business.
In this review of the best salon software in India for 2022, I've really tried to go beyond just a list with user ratings (that you can find on other websites).
Instead, I wanted to go deep on the features and clarify what the different types of salon software are so that you can make an as informed decision as possible. 
Next, it's your time to give the platform you think is right for you a try. If you are still confused about which salon software to choose from then feel free to signup for a consultation.