Makeup brushes can be confusing. The truth is, each makeup brush does have a specific utility. But you only need all of them if you are a professional makeup artist who uses products extensively on other people. This list tells you which makeup brushes are essential and which are avoidable. 
For Foundation:
Stippling brush > Flat foundation application brush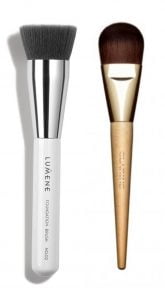 A flat foundation brush has a tapered, pointed top instead of a blunt and straight top. It helps to put on the foundation but doesn't do much to blend it. So, if you need a foundation brush, getting a flat-top, densely-packed stippling brush is what you need.
We say this because you can always apply foundation onto your face with your hands. But to blend it in, you need a stippling brush, which will allow your foundation to spread seamlessly.
For Concealer:
Pointy thin brushes > Large concealer brush


You might have seen a lot of beauty bloggers apply concealer under their eyes or around their mouths and eyebrows with a flat concealer brush. When it comes to effective concealing, only two things matter: how long you let the concealer sit on the skin before blending it, and whether you pin-point conceal pimples and spots with a small, skinny-tipped liner or lip brush.
For Powder:
Small fluffy brush > Large fluffy brush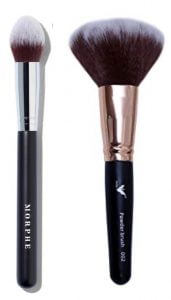 Large fluffy brushes are popular and are considered staples. While these are useful for applying products in one go, they aren't always the best.
Use a smaller fluffy brush to apply the powder to just the places you want to mattify. This prevents the whole face from looking cakey and powdery and only takes away the shine where needed. When it comes to setting the under-eyes, the sides of the nose, or the centre of the forehead, a smaller fluffy brush is way more ergonomic.
For Eyeshadow:
Fluffy eyeshadow blending brush > packer brush


You can always apply an eyeshadow colour on your lids by swiping it on with your fingers. But, when it comes to getting a good blend and diffusing that colour, so it looks blurred and soft, nothing does the job like a medium-sized, fluffy eyeshadow blending brush. If you had to pick one eyeshadow brush to buy, make it a fluffy blending brush.
For Eyeliner and Eyebrows:
small, stiff angled brush > thick angled brush


Angled brushes can change your makeup game entirely if you get the correct size, stiffness, and density. Longer, thicker angled brushes bend too much. They are too wide for cleaning up the edges of your brows or lips with concealer and too thick to do detailing work like eyeliner application.