The world of beauty has some incredible contenders that make it possible for us to turn our dreams of smooth and glowing skin into a reality. One such multitasking skincare ingredient that's having a hot moment right now is niacinamide.
What Is Niacinamide?
Niacinamide, a form of vitamin B3, it's a powerhouse ingredient that suits all skin types. It also works behind the scenes to brighten the skin, boost collagen production and build a strong lipid barrier to keep moisture levels in check. If frequent breakouts, premature ageing and dullness are your skin concerns, rest assured, niacinamide will treat it all.
5 Reasons To Add Niacinamide To Your Daily Skincare Routine: Benefits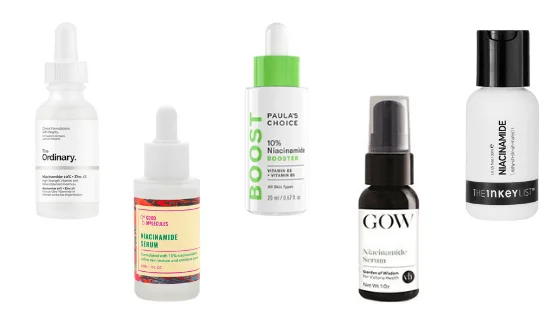 Prevent premature ageing: Niacinamide prevents premature ageing and works actively to revitalise your skin in various ways. Its antioxidant benefits tackle the free radical damage on the skin. So, you can count on niacinamide to improve collagen levels as well as get rid of premature wrinkles, fine lines, and sagging skin. When paired with sunscreen, this ingredient can double up the protection against harmful UV rays, too.

 

Brightens the skin: Touted as the jack of all trades in the world of skincare, niacinamide is a coveted ingredient thanks to its skin brightening properties. Rich in antioxidants, it protects the skin from free radicals and environmental damage known to cause skin dullness. It stops the enzyme responsible for pigmentation, melanin, from transferring to skin cells, thereby keeping your skin bright and glowing.

 

Controls oiliness: One of the most remarkable benefits of niacinamide is its ability to control sebum production in the skin. As you may know, excess sebum and oil build-up on the skin can cause clogged pores, shiny skin, and frequent pimples and acne. But an ingredient like niacinamide can work wonders to fix this problem. It keeps your face breakout-free and your complexion brighter and clearer.

 

Reduces inflammation: Inflammation, one of the most common skin concerns across all skin types, is niacinamide's favourite problem to solve. This form of vitamin B3 is known to minimise irritation, redness and acne caused by skin inflammation. It also strengthens the skin's lipid barrier that helps retain moisture and hydration levels, providing a lasting, soothing effect. All things combined, niacinamide makes for a great skincare ingredient for sensitive skin types.

 

Evens skin tone: Since niacinamide regulates sebum flow in the skin, it directly reduces the appearance of enlarged pores, aiding our goal of achieving a smoother skin tone. It also blocks enzymes and darkening pigments from reaching the surface of the skin which could lead to unwanted pigmentation and dark spots. In the case of existing spots, it effectively lightens them, giving way to smooth and brighter skin.


 
Application Of Niacinamide: How To Use It?
Morning routine
Wash your face with a gentle cleanser

 

Apply your toner

 

NIACINAMIDE serum

 

Moisturizer

 

Sunscreen

 
Night-time routine
Take makeup off
Wash face with cleanser
Apply toner
Apply retinol
Moisturize with NIACINAMIDE
Apply eye cream
Overnight mask
Can I Use Niacinamide Without Sunscreen?
Niacinamide is an active ingredient. Whenever you use actives in your skincare, they make your skin more vulnerable hence using sunscreen will protect your skin from damage. Saying that sunscreen is a must whether or not you use actives. When you are just staying at home, you can use lower SPF like 30Spf with UV.
If you are building a skincare regime, it is an absolute must to wear sunscreen. People mistakenly jump to actives without following the basic building blocks of skincare. Niacinamide will enhance all the benefits of using sunscreen. You can certainly use niacinamide without sunscreen but it is recommended to use niacinamide with sunscreen for best results. You can avoid sunscreen when you're in home but if you're planning to go out  then you must consider sunscreen.